Our Next Show:
Professor Grim & The Spectres Upstairs
Solve Puzzles, Summons Spirits, And Unravel The Mystery To Survive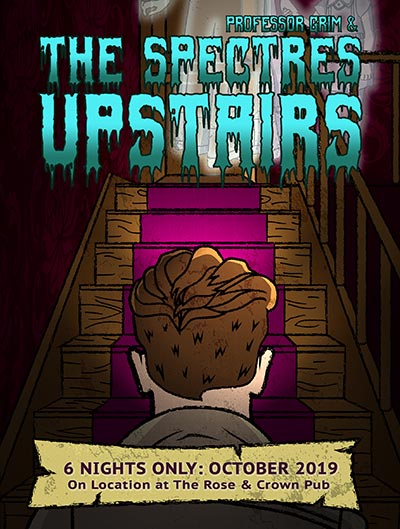 The Story
Being interested in the paranormal, you follow a number of local forums and internet channels dedicated to the topic. Earlier today a cryptic message was posted online which read:
"Threat Level Delta. Assistance required. All able and willing paranormal investigators should meet me at 1503 4th Street SW, tonight. Those fearful should know, your absence will not protect you."
You saw the message was posted by a Jane Fonda, Paranormal Investigator Level 3. More curious than concerned, and unaware of what Threat Level Delta entails, you decide to gather your friends and join her. Surely something of interest will happen this evening.
Show Details
LOCATION: The Rose & Crown Calgary
DATES: Oct 19, 20, 21, 26, 27, 28
TEAM SIZES: 4-6 Players
DURATION: 100-120 Minutes
COST: $48.95/pp (includes 1 free drink at the bar)
Venue Information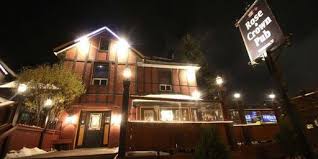 The Rose & Crown Calgary
1503 4 St SW, Calgary, AB
Originally built in the 1920s, Davidson House served as a funeral home for much of its existence, only decommissioning and reopening as The Rose & Crown Pub in 1986. Seeing as thousands of cremations and funerals would have been performed inside, it is not surprising that there have been several reports of ghosts haunting the facility…
The Rose & Crown is rated as one of the most likely haunted places here in Calgary. Given its previous history as a funeral home it is no wonder that it is believed that ghosts still occupy the top level of the building. The most common sightings are of little boy and an elderly woman and almost everyone who has worked in the building has had some type of encounter or the feeling they're not alone.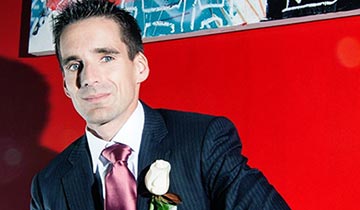 Eric Boudreau
Director
Notes from the Director
We are extremely pleased to be bringing Professor Grim and The Spectres Upstairs back for a second run in 2019. A truly wild ride, this escape game adventure will have you solving puzzles the likes you've never seen in a traditional escape room setting. Good luck to all our Paranormal Investigators… or at least to those who dare!
WHAT ARE THEATRICAL ESCAPE GAMES?
A theatrical escape game is a large-scale, multi-team, escape room experience. Like an escape room, it's a game where teams will need to find clues and solve puzzles in order to succeed. But there's also several characters who you'll meet along the way, a plot which will slowly be unraveled, and multiple endings which can be reached depending on how your group performs.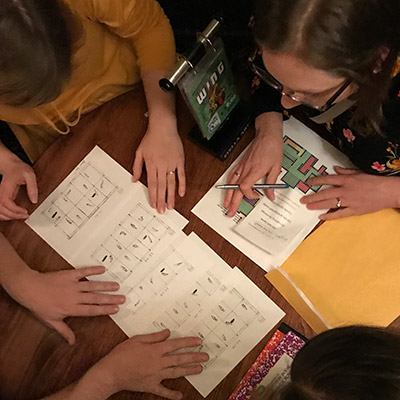 A Large-Scale Escape Game
Our theatrical escape games are large-scale events: they include a full ensemble of actors & actresses and are played in venues large enough to host 40+ people. These events will typically be 30 – 60 minutes longer than a regular escape game as there is more to do and a much wider area to explore.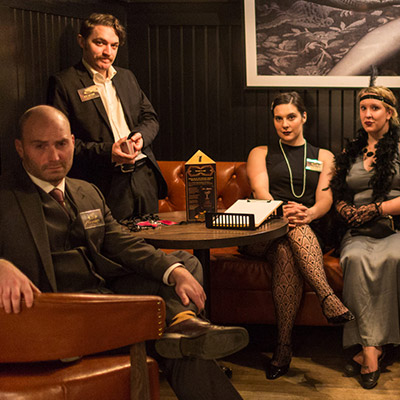 Professional Actors & Actresses
Not only will our cast set the mood and story by acting in several cut scenes, they will be an essential component of your escape experience. Some help, others hinder; you'll never know what to expect when you go up to talk to one!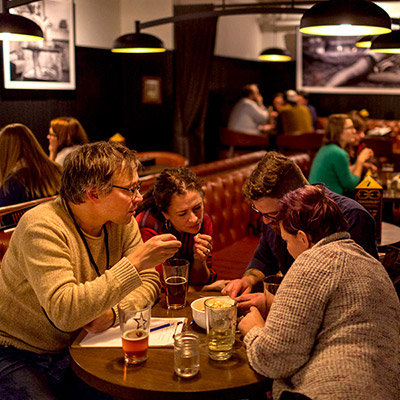 Unique & Fully Licensed Venues
We seek out our venues specifically to fit the story we are telling, allowing us to create a memorable and incredibly immersive adventure. So order a drink, grab an appetizer, and let us show you something totally new!
Limited Tickets Are Still Available For The Show!
Limited Show Run: October 19th, 20th, 21st, 26th, 27th, 28th
Frequently Asked Questions: The Spectres Upstairs
When does this show run?
The Spectres Upstairs will run for six days only this October.
Showtimes will be:
Saturday Oct 19th at 1:00pm and 3:45pm
Sunday Oct 20th at 1:00pm and 3:45pm
Monday Oct 21st at 6:15pm and 8:45pm
Saturday Oct 26th at 1:00pm and 3:45pm
Sunday Oct 27th at 1:00pm and 3:45pm
Monday Oct 28th at 6:15pm and 8:45pm
What size teams can participate?
The game is designed for groups of 4-6 players. We are permitting smaller groups to book for our Monday shows (oct. 21st & oct. 28th) but please note that you may be paired with other small groups for the game. Click here to navigate to the our small group (2-3 person) booking page. If you require help purchasing tickets for your group please contact us at: bookings@thelockedroom.ca or at 587-387-2337.
Is there an age limit?
Weekday shows are strictly 18+. For weekend shows children aged 16 and up may attend, however we do required children to be paired up with a playing adult (18+) for the duration of the event.
When should we show up?
The doors will open 30 minutes prior to the showtime and we recommend that you arrive a MINIMUM of 20 minutes early so you can be shown to your table, explained the rules, and have a chance to order drinks. The theatrical escape experience will start sharply on the stated showtime. Arriving after your showtime will result in your group not being admitted to the event with no refunds provided.
What should we bring?
The ID of the ticket purchaser is all you will need for entry to the show or you can bring your confirmation email (either printed out or on a phone). Everyone in the group should also bring a government issued ID if ordering drinks.
Are drinks available at the venue?
Yes! Your first drink (selected beers, wines, highballs, or non-alcoholic beverages) is on us and additional drinks can be purchased from the Rose & Crown.
Will there be food at the venue?
Food may be purchased from the Rose & Crown, however we do recommend not ordering meals during the show as teams will often be away from their tables, talking to characters and solving puzzles. There is seating in the main bar area for teams who'd like to show up early or remain after the game for a meal. Otherwise, we recommend ordering appetizers to share.
Should I dress up for the show?
This is our Halloween show which is about the real life haunting of The Rose & Crown. You will be playing as a group of Paranormal Investigators. Feel free to dress the part if desired!
Will I be paired with other teams?
As a large-scale event, there will be multiple teams playing simultaneously, but each team will be playing individually. Teams will each have their own table & won't be paired up with other teams for the game.
There's multiple teams playing?
Yes! In The Spectres Upstairs up to ten teams can play at once. Although each team will be playing individually, in this game you will either win or fail based on the performance of the entire group. It's a very unique experience and if you're a fan of escape rooms you need to check it out!
Are tickets refundable?
Tickets to the Spectres Upstairs are non-refundable, however, tickets may be transferred to another participant. Please contact us at: bookings@thelockedroom.ca with your showtime, full name, and full name of the person you are transferring the ticket to.
Can I change my ticket to a different date or time?
Up until 72 hours before your show time: Yes. Before this time tickets to the Spectres Upstairs may be moved to a different date or show time if availability permits. Please email us at: bookings@thelockedroom.ca in order to transfer your ticket to a different date or time. If you do not get a reply within 24 hours please call us to confirm.
Once the 72 hour mark is passed: No. After this time tickets are locked in and may not be moved to a different date or time.