WHICH ESCAPE ROOM IS RIGHT FOR YOU?
Escape rooms are a great way to get out and DO something. Whether you're spending time with friends or team building with your co-workers, these immersive and themed challenges will be sure to entertain.
With so many options to choose from – which room is right for you? Below is a break down of some factors that you should consider before booking your next escape game.
ESCAPE ROOM LOCATION
Let's be practical: closer is always better! Luckily we have 3 Locked Room locations here in Calgary!
NORTHEAST: #15, 2015 32 Ave NE
SOUTHEAST: #191, 5330 72 AVE SE
SOUTHLAND: 9937 Fairmount Dr SE



GROUP SIZE
We have 13 escape rooms to choose from, but your best experience will be to book a room designed for the number of players you want to bring. You can see the ranges we accept in each of our rooms below, or you can click through to the bookings page to see the room's recommended minimum.
As a general guideline, although smaller groups of 2-3 players are welcome to book our escape games, unless you are escape room veterans, we'd suggest against booking one of our larger capacity games. These rooms were designed intentionally with larger groups in mind and you will see a posted recommended minimum of players for each room.
Please note that the escape rooms listed with a minimum of 3 players to book cannot be played by 2 players as they contain puzzle elements that require at least 3 people to operate.




AGE OF PLAYERS
Most escape rooms are designed for an adult audience, but kids love the playfulness and the puzzle solving, not to mention feeling like they're finally old enough to do something they couldn't before.
At The Locked Room we recommend players be 12 and over but participants ages 6 to 11 are also welcome to join in as long as there is at least one adult playing with them. Note that some of the puzzles or story elements may be confusing to children in this age range. We strongly recommend choosing one of our easier escape games if members of your group are under the age of 12.
Due to the graphic content found in Captivity, which is our horror themed room, we strongly recommend players aged 14 and over only.
ESCAPE ROOM DIFFICULTY LEVEL
Escape rooms are meant to be a challenge; teams love racing against the clock and not knowing until the final minutes if they are going to escape. With the more escape rooms you play, the more experienced you'll become as a puzzle solver. At The Locked Room that's why we offer a wide variety of challenges.
Advanced players will appreciate clues that are written more cryptically, puzzles that have more steps to them, and more astute observation that is required, while newer players often desire a more approachable puzzling experience. We suggest newer players (those who've played 0-3 escape rooms) pick a room in the bottom half of our difficult levels and veteran players (3+ rooms of experience) pick a room in the top half. If there is a theme you really want to play, and it seems a little above your experience level, feel free to book in anyway as we offer teams as many hints as they desire.
All of our rooms come equipped with a hint button if your group requires a little nudge in the right direction. You'll never be stuck on a puzzle for longer than you want to be!

NEED MORE ROOM INFORMATION?
Have a look at the room information links below. There you can find the room's theme and story, recommended minimum players, as well as, difficulty levels. Or contact us by email or by phone! We're always happy to make a suggestion.
LOCKED ROOM NORTHEAST ESCAPE ROOMS
THE QUIZZLER'S REVENGE
2-9 PLAYERS
Our new escape room: "The Quizzler's Revenge" is now open at our Northeast location. Do you have what it takes to save the city from a sinister supervillain's plot for destruction?
LOCKED ROOM SOUTHLAND ESCAPE ROOMS
LOCKED ROOM SOUTHEAST ESCAPE ROOMS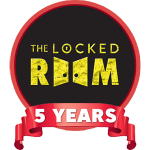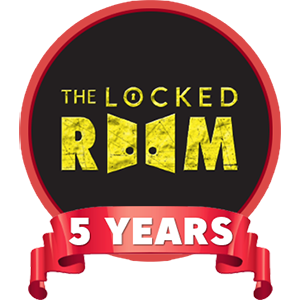 CALGARY'S LEADER
IN INTERACTIVE ESCAPE ROOMS