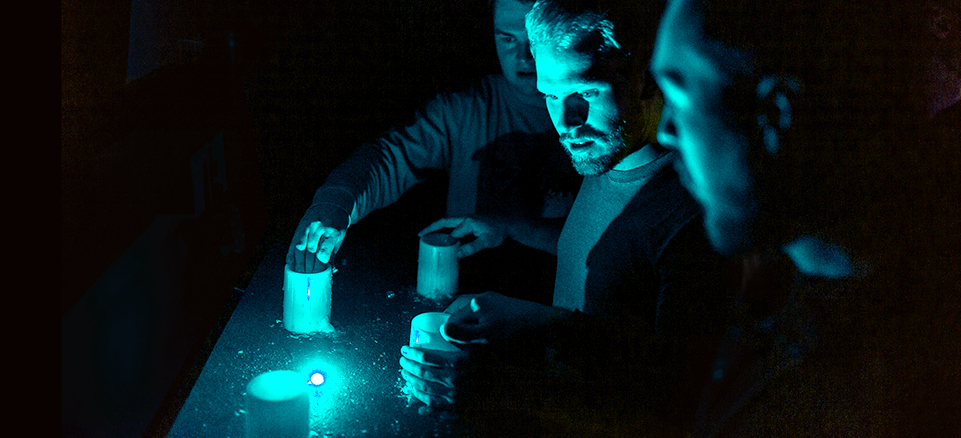 5 REASONS A LOCKED ROOM MAKES A GREAT CORPORATE TEAM BUILDING EVENT
Teams that work well together produce better results, which is a win-win for companies and employees everywhere. Playing an Escape Room with your co-workers can be a challenging and rewarding experience.
5 reasons why a Locked Room would be great for a corporate team builder or staff Christmas party:
#1: IT'S FUN
Life is busy and we often get caught up in the hustle and bustle of the world. We'd like to challenge you to disconnect; get out of the office and leave the desk-computer-tablet-smart phone behind and take an hour to immerse your team in an escape room experience. The elaborate themes are sure to awaken your inner child and take you back to your love of fun, imagination and play. Being trapped in an escape room is an exciting experience that is out of the ordinary and guaranteed to provide a few laughs!
#2: COLLABORATION
You can't escape a Locked Room without teamwork and collaboration. This isn't a competition, but rather an opportunity to work towards a common goal as a cohesive unit. Your team will have to trust and support one another, and the puzzles will bring out each person's individual differences and strengths. The better your team comes together and communicates, the more successful you will escape. Getting your team working with other members of the company will strength their relationships and improve their dynamic when they are back in the workplace. You're sure to come out the other side closer than ever.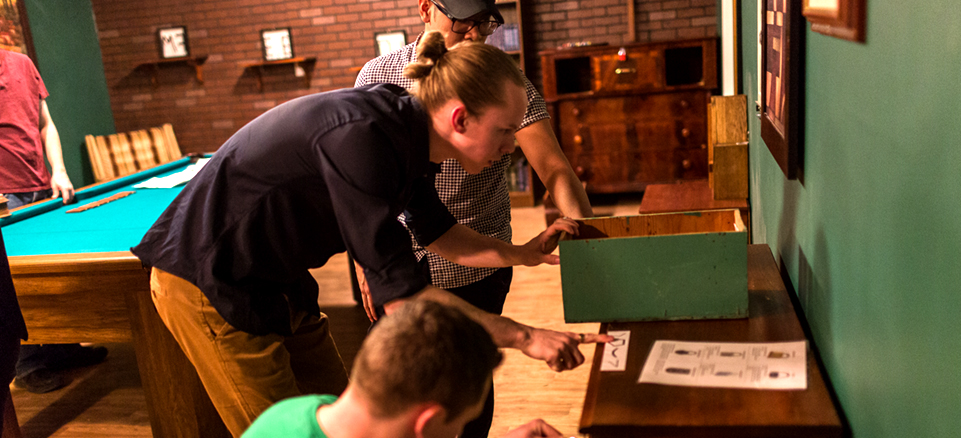 #3: TRAIN YOUR BRAIN
Creative thinking is a process that involves breaking down and understanding a problem, generating ideas to solve said problem, and evaluating those ideas to find the most effective solution. Creative thinking is not only important in the workplace, but in all aspects of our daily lives. Why not invest in your well-being with a social and interactive way to exercise your brain? Our rooms have an extensive array of puzzles with various levels of difficulty suitable for people ages 12 to 65.
#4: HAPPY TEAMS ARE GOOD FOR BUSINESS
Strengthen your team dynamic and reduce turnover by investing in social interaction and encouraging your team members to connect outside the workplace. In an uncertain economy with more pressure put on employers to keep up with less staff and more workload, it's important to get your team out of the office and offer events that effortlessly build stronger bonds. An escape room is the perfect experience for improving moral, identifying a team's strengths and weaknesses, and encouraging problem solving and better productivity.
#5: IT'S ACCESSIBLE TO ALL DIFFERENT TYPES OF PEOPLE
A Locked Room is the type of event where the skills required to participate are accessible to the general population and nearly everyone and anyone can participate in our Locked Room experiences. Our escape rooms are designed so that a person isn't required to have a particular skill set or knowledge set in order to complete the tasks. The rooms also don't require physical feats of strength to complete. All that is needed to solve our puzzles is teamwork and problem solving skills – our escape games are accessible and playable for nearly everyone!
The Locked Room has 3 locations in Calgary with 12 themed escape rooms. Pricing for our facility rentals starts at just $20/person! (based on a 30 person occupancy). All it takes is one phone call or click of a mouse to make your corporate event a reality. So gather the team and try your hands at escaping a Locked Room!
Learn more about booking your next corporate event at the Locked Room