This holiday season, we want to inspire and contribute to your gift giving process. Who doesn't enjoy making family members work for their gifts by sending them on a little bit of a hunt! The folks here at The Locked Room are all about moving around, giving the ol' brain a workout, and having a good time!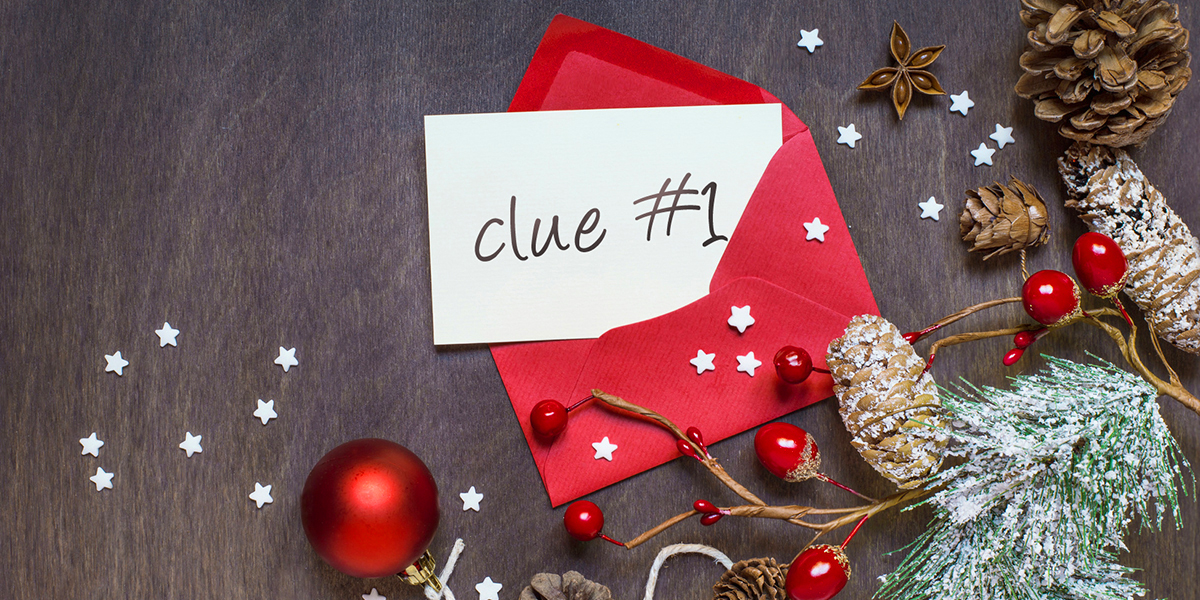 A HOLIDAY GIFT HUNT!
The idea behind the gift hunt is to create clues (often rhyming) that will lead a person from one clue .. to another clue .. to another …. (how ever many you want) .. to a final clue that will reveal the location of their gift. You can have them in envelopes, wrapped as a decoy gift, or hidden in the tree itself – just make sure you write down where you hide them (just in case).
A sample Holiday Gift Hunt would be:
Card under tree: Clue #1 directs them to the house entrance way

Under the rug: Clue #2 directs them to the laundry room

In the dryer: Clue #3 directs them to the bathroom

Under the extra toilet paper roll: Clue #4 directs them to the kitchen

On top of the microwave: Clue #5 directs them to the hallway closet

In the closet is the GIFT!
Below is a link for a printable 2-page PDF with a few rhyming clues (and a couple blank cards for you to add in your own if you wish) that you can use to make a Holiday Gift Hunt for the people on your list.
Consider adding a little fun and a memorable experience to your gift giving this holiday season by starting this new tradition. And don't forget – our Locked Room Gift Cards make excellent gifts and stocking stuffers!

H

A

P

P

Y

H

U

N

T

I

N

G

&

H

A

P

P

Y

H

O

L

I

D

A

Y

S
TO YOU AND YOURS FROM ALL OF US AT THE LOCKED ROOM!